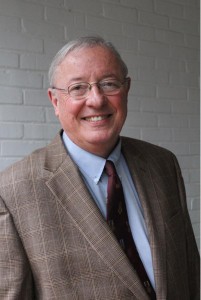 Twenty-five years is a long time to serve in one position at one organization. Twenty-five years as president and CEO of a healthcare provider is even more impressive. For Ben McKibbens, that organization was Valley Baptist Medical Center and Health System in southern Texas. During a 2012 interview, this long-tenured senior healthcare leader reflected on his time at Valley Baptist and his concerns for the future of healthcare.
When it came to his focus and priorities at Valley Baptist, McKibbens emphasized the importance of continuous improvements and advancements—always looking to and investing in the future, asking, "How can we make this better?" He explained that his goal was to enhance educational programs for the governing board, medical staff, employees, and community, "When you do that, then those physical things grow." McKibbens mentioned with pride the Family Practice Residency Program at Valley Baptist, noting that he and his wife, Loren, were honored that the program was named after them. The residency program, created and directed by an outstanding physician, Dr. Bruce Leibert, is one great example of the growth at Valley Baptist and that organization's continued investment in the future of healthcare.
Also among his highest priorities were the people at Valley Baptist; McKibbens explains,
"I was fortunate to have a mentor who encouraged, directed, and assisted me in my career, and the only way I know how to thank him is to do the same thing with our employees, the community and physicians. I really enjoy seeing people do well—starting out from scratch and succeeding. We were extremely fortunate to have dedicated trustees willing to act with good common sense and to learn the best ways to enhance the health system."
In addition to this opportunity to "pay-it-forward," McKibbens also finds joy in the many priceless relationships he has developed through his work as a hospital CEO. "Looking back, I am truly pleased with the experience and the joy of the relationships of so many wonderful people; I will never, ever forget some of the peers and friends and relationships developed over the years," he said. "Also, I am so thankful for the opportunities that the position afforded me. Opportunities to know so many outstanding people, to function in a good environment, to develop programs and certain systems to improve the neighborhood, the involvement in state and national healthcare matters, and the opportunity to grow professionally."
When asked if he would do anything differently given a chance to relive his career, McKibbens said he would really like to please everyone, though he knows doing that would be as impossible as actually re-doing his career. He noted, "Sometimes it's really hard to do some things that need doing when you know you're not pleasing some people, particularly friends. It's one of my regrets that I couldn't please everybody." Another thing McKibbens would like to try again if afforded a second chance at his career is to plan better. "I think we could always plan better, in advance, and involve more people in advance." Lastly, McKibbens said he would have liked to have had more time with family and friends. "One low-note of the career, is that you get so busy sometimes you can't always keep things in balance. In such a large organization… you're just busy! It takes a lot of time." McKibbens acknowledges that it was difficult at times, but overall, his career was extremely fulfilling, and since retiring, he has had the opportunity to make up for lost time with those he holds dear.