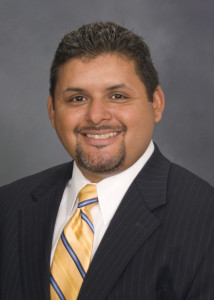 Tim Bugg, president and CEO of Capstone Health Alliance, has come a long way in his career—without having to go a long way from home. Headquartered in Bugg's very own hometown of Asheville, North Carolina, the newly formed subsidiary of WNC Health Network is a regional GPO currently serving more than a dozen states and representing over 150 hospitals. Bugg says that in simple terms, Capstone's mission is to "drive down cost through regional aggregation, cooperation, and collaboration."
Bugg, who has a Bachelor's Degree in Business Administration from Montreat College, describes his career and journey to his current position as being a little different than most. He never anticipated entering the healthcare industry or supply chain, "Of course, I don't know that anybody when they were in high school ever had aspirations to be in the supply chain field when he or she grew up." But from his first paid job bussing tables at a seafood restaurant, he went from one odd job to another—as most young people do—and eventually ended up landing in supply chain selling for Lance Incorporated.
It was at Lance that Bugg first began learning the skills necessary to be a good supply chain professional, and discovered he had a knack for it. From there he went on to hospitality purchasing, working for Grove Park Inn in Asheville for several years.
The turning point in Bugg's career came when his wife, who is a chief nurse for the Charles George VA Medical Center in Asheville and comes from a family of healthcare professionals, persuaded him to apply for a supply chain position at CarePartners Health Services (formerly known as Thoms Rehabilitation Hospital). Bugg was hired, and six months later promoted to director of Materials Management. That turn of events led to over 11 fulfilling years at CarePartners, and served to cement Bugg's career in healthcare supply chain.
Bugg joined WNC Health Network full time in January 2007, having served in a part time capacity for several years, and as the interim executive director in 2000. Now, decades after he first entered the healthcare industry, Bugg is still thankful for the direction his career has gone, saying "I have loved every minute of it!" And if given the chance to start over, he says he wouldn't change a thing.
When asked what draws him to healthcare, Bugg answered, "The innovation and the changing environment of healthcare… to be able to look outside of what you're doing today to try to find better ways to do it tomorrow—that's a tremendous draw for me." He went on to say,
"I'm never satisfied when it comes to a variety of things, and that's not a negative statement—that's a driving statement. I think that's an important lesson for any leader—if you ever become satisfied or content and lose your drive, then you most likely have lost the love for what you do. When you love what you do, you always strive to be the best—or at least I do!"
 Like most people, Bugg has received plenty of advice throughout his career. He says the worst counsel he has ever received is also the best: "This will never work." He explains,
"I have been told several times in my life, 'This will never work.' This statement absolutely motivates me, and I feed off of those words. It becomes a personal challenge, and the visionary competitor part of me says, 'You know what? Watch me. Watch me do this.' You've got to embrace every challenge, and drive to make it happen."
That outlook ties in very well with what Bugg sums up as the most important lesson he has learned in life: simply, "Nothing is impossible and everything is achievable." Bugg adds, "Hard work drives everything… one of the things we tell our kids all the time is 'hard work beats talent every day.'"
Obviously a hard-working achiever, Bugg maintains a personal mission to never stop learning. Asked where he gets his new ideas, he responded, "Everywhere," going on to say, "We should all strive to learn something new everyday. I think that if you're in that mindset to pick up a new idea each day or every time you meet somebody new, that's a great thing."
In addition to avidly seeking out learning opportunities, Bugg is also passionate about teaching and coaching young people. A father to two teenage daughters, he is committed to investing in the lives of his daughters and their peers through athletics. In 2009 he founded a Christian-based fastpitch softball organization, and still coaches two of the program's five teams. It's one of the top programs in the region, but what really drives Bugg's commitment are the fine young ladies who've gone through the program. "We've turned out some really good young ladies, and that's what makes us the most proud."
When not busy with family, work, or coaching, Bugg hopes to do the one thing currently on his bucket list—see more of America's wide-open spaces, like Montana, the Dakotas, Wyoming, and Alaska. "I would love to spend a couple of weeks in a cabin in the middle of nowhere and just enjoy the quiet. I'm in no way an avid hiker, but I do enjoy the solace the wide open spaces can bring."
Asked what he thinks the next five years have in store for him, Bugg said,
"I don't know. I believe that every 5-year increment in my life has been different. I would hope I am still the CEO at Capstone Health Alliance, still leading this organization to bigger and better things. I know that I will be taking on challenges daily. I know that I will continue to want to learn, and I'll continue to strive to beat the challenges that go forward."
Sounds like a great plan from a great leader!